CASTRES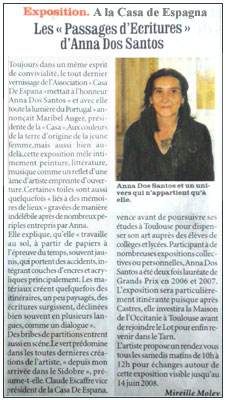 La Dépêche - Mireille Moley - 29 May 2008
Exhibition at the Casa de Espana:
"Writings Wanderings" by Anna Dos Santos

In a very friendly atmosphere , the Association "Casa de Espana" opened the preview exhibition by Anna Dos Santos whose paintings set off all the light in Portugal" announced Maribel Auger, President of la Casa. Mixed with the colours of the earth the young painter comes from but also with other earth colours from other lands, the series of paintings mixes painting, literature, music as a reflection of the artist 's soul open to all Arts. Some paintings are sometimes connected to memories of places fixed forever in the wake of Anna's many travels. She explains she works on her canvas laid flat on the floor, using papers worn by time, often turned yellow, which bear the mark of accidents and then she builds up her work with layers of inks and acrylics. Hence materials create their own routes that might look like landscapes. Bits of scores step in. Writings come to the fore, often in different languages like an open dialogue. Green is a permanent colour in the artist's latest creations « since I arrived in the Sidobre » she surmises. When presenting Anna's exhibition, Claude Escaffre, Vice President of the Casa de Espana, also mentioned « colours that organise themselves in a triumphant symphony around the poetry of words ».

Anna Dos Santos has studied Plastic Arts at the university of Aix-en-Provence before studying in Toulouse where she next taught Art to secondary school pupils. While she took part in many group or individual exhibitions, she was twice awarded major Prizes in 2006 and 2007.
This exhibition will be travelling on since after Castres, it will be shown at the Maison d'Occitanie in Toulouse before moving to the Lot and then come back to the Tarn in September. The artist offers to meet her every Saturday morning between 10.00 and 12.00 to share on this exhibition which will be shown util 14 June 2008.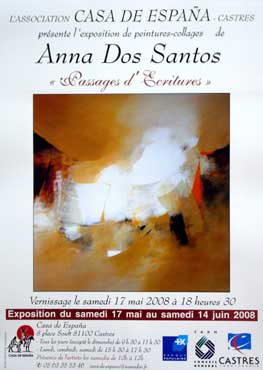 Press information - Claude Escaffre - 17 May 2008
Welcome to the Casa de Espana, Anna!

Through his or her art, the artist does excite our senses and arouse our emotions. Anna Dos Santos is obviously one of those. Recently settled in Castres, Anna Dos Santos has chosen to reveal her latest paintings entitled « Writings Wanderings » in the Casa de Espana. Paper with shades of writing on it or music scores, hence fraught with memories, is the element that triggers off the whole creative process. Colours organise themselves in a triumphant symphony around the poetry of words whose harmony creates wonderful shock waves. Playing their part as though accomplices, the bits of written paper complement and attract one another, find a harmony and an echo among themselves like in a poem by Baudelaire. The artist's wand, turned into a brush in this case, directs the interpenetration of the abstract (thought and writing) and the real to translate energies, sensations experienced through various elements, their interference and interaction. This abstract painting, implicitly intellectual, hits home. It cannot leave anyone unaffected, for it is the expression of a somewhat unexpected bringing together of different components which is both a fortunate and lively combination, both a fortunate and lively meeting : papers, canvas, pure or diluted inks, acrylics, binders...
An atmosphere of intense silence does emanate from the whole exhibition. In those paintings, words, sounds and tones reflect each other. For Anna Dos Santos, those bits of writing are traces of reading, connections between the artist and the sensitive world, travel tales, powerful language messages, so many muticultural expressions to which she is used and strongly attached. And so very much like Arthur Rimbaud who used to think that poetry was the result of the alchemy of words and senses, Anna Dos Santos's painting is the result of an alchemy of colours and taste. The work takes shape on canvas and becomes in turn a different language fraught with senses that links together human beings from different cultures. It is indeed a dialogue open to a multi-coloured world.
Anna Dos Santos will welcome the public on Saturdays from 10 am until 12 am at the Casa de Espana in Castres from 17 May until 14 June 2008.

Mr Claude ESCAFFRE, Vice-President of the Association Casa de Espana of Tarn