BURLATS (Tarn)

La Dépêche du Midi - 18 september 2009.
Heritage Day at the Pavillon d'Adélaïde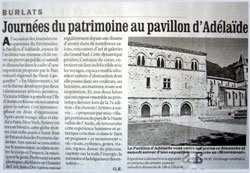 The Pavillon d'Adélaïde, a treasure from the civilian Romanesque architecture, will be open to the public on Saturday and Sunday for an exhibition organised by the Haut Languedoc Regional Natural Park.
The theme developed by the two artists is « On the Move ».
Victoria Milroy lived on the Arran Island in Scotland where her love for nature developed into a desire for artistic expression. After travelling, living and studying in Paris, New York, Sydney or even Mexico, this world traveller eventually settled in Saint-Jean de Paracol in the Eastern side Pyreneas in the Aude. Her work focuses on movement, on the relation between the body and space, music, dancing and the artist's gesture.

On the other hand, Anna Dos Santos, an Arts teacher and Art History graduate, has regularly shown her works in several exhibitions, events and galleries in the South of France over the last ten years. This dynamic artist from Castres, a local town set deep inside her heart, maintains a close link between her travels and multicultural areas and an abstract world from which she draws her colours, light, matter and her inspiration. In the wake of a recent visit to Beijing, she offers a new type of work in which collage, acrylic and China ink are mixed. These two artists were invited together in the same exhibition last Spring in the seventh version of « On the way! Artists to be followed... » offered by sixteen Pyrenean villages of the Upper Aude Valley. They wish to renew this human and artistic experience in the Tarn by painting this movement where lines, rythms, gestures, marks, signs, brush dances gather the energy, memory and swiftness of the flights on the canvas.


The two artists will welcome you on Saturday 19 and Sunday 20 September 2009 from 10.30 am until 6.30 pm
at the Pavillon d'Adélaïde, Burlats, 81