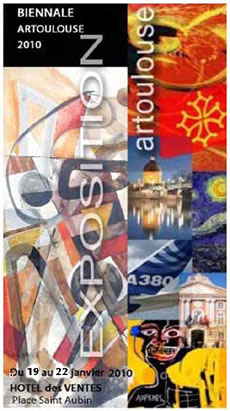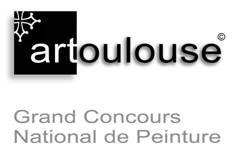 Auction Sale - 22 January 2010
Hôtel des ventes - 3 Bd Michelet - TOULOUSE


Major National Painting Competition

Exhibition Catalogue ARTOULOUSE 2010
Frédéric Pinson-Meilhac

Three main reasons started off the Artoulouse Project which took place from 19 to 22 January 2010. First, there was a passion for Art, for artists and what they offer to our world. Then, the deep conviction that Art is a social link between us all, whatever our social or cultural background. Finally, here is a fresh opportunity for the public to approach Art differently by bringing together artists and art experts, financial and institutional representatives…. even amateurs, some of whom being collectors or sponsors. Toulouse was bound to enjoy such a "transversal" link as ARTOULOUSE. More than a thousand works were selected for the Biennale and displayed in the auction room in St-Aubain Square in Toulouse from 19 to 22 January.
Let us keep in mind that the artists willingly give us the best they can offer and let us appreciate their best side as it appears unveiled. This sensitive side reminds us that emotion pertains to artists and what they convey to us through their works is also what links us together. This is because the most important task in our daily work is to discover new talents for our collectors. It is investing in artists and allowing them to reach a formal rating thanks to an auction sale. This event is a link between French and foreign artists, art galleries, visitors, the art market, public and private companies.
On Friday 22 January, Maître Labarbe, auctioneer, conducted a sale of the works on display at the Hôtel des Ventes St Aubain to close the Biennale ARTOULOUSE.
Anna Dos Santos's painting: « On the move » 40X80 – was then sold