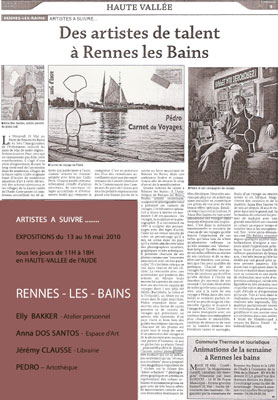 Le petit Journal - Evelyne CODINA - 18 to 24 May 2010

Upper Valley – Talented artists in Rennes les Bains

On Wednesday 13 May, our main regional cultural event of the month, "Artists to be followed", was inaugurated in the great Hall of Rennes les Bains. For the people who do not know what this event is about, it is a series of exhibitions during the long Ascencion week-end scattered throughout several villages of the Upper Valley. The initial idea was to persuade many art amateurs to come and discover talented artists as well as the villages of the Upper Valley of the Aude. This year, 14 villages will host 49 artists who are involved in the Association « Artists on the Road » headed by Cathy Pech. Every year, this event is enriched by the arrival of new artists, new host villages and new recreational activities. The artists spent most of the evening with the representatives of their host villages, of the Conseil Général and Communauté des communes of the Couiza area in the main hall of Rennes les Bains. The atmosphere was very friendly just before the whole event was launched. Talented artists show their works in Rennes les Bains… Pedro at the Artothèque, an artist from Toulouse both a sculptor and photograph shows his travel journals. In 1997, he started shaping figures with steel rods, then he put them in place in several countries he visited in order to create original, graphic and artistic pictures..... Jeremy Clausse's pictures on « urban souls » were shown in the « 7 Clichés » Bookshop portraying pictures taken in railway stations with coloured movement effects.
Anna Dos Santos also loves travelling since that's how she gets her inspiration. Her paintings emerge from the emotional and sensitive memory of her travels and express as she says some form of « lyrical abstraction ». Indeed, each of her paintings expresses through colours and matter a poetical approach and emotions. Every time she returns from some remote country, she brings back a specific collection of colours which she uses according to the feelings she means to convey. Thus, Anna has presented two series of paintings, one created in the wake of her trip to Beijing in cold hues sometimes enhanced with a tinge of red in which severe and softer colours are mixed together, the way China appears. The other series takes us into a warmer and sunny atmosphere with its desert and wind where light prevails over vast and wild expanses, the result of a travel in the Middle East and Africa. Anna does use colours and matter with magic, she has lived on her art for over ten years and has shown her work throughout the South of France. Her colourist training allows her to translate her feelings with great sensitivity by creating an exceptional time and light space which is currently presented in the Art Gallery of Rennes les Bains.